Yuamaha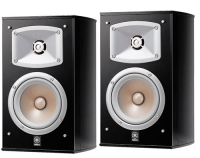 EliteHiFi is the official Yamaha dealer in St. Petersburg.
All Acoustic System equipment is subject to the official manufacturer ' s guarantee.
Show:
Yamaha It is well-deservedly popular throughout the world. Yamaha columns are adequate prices and quality at the same time.
Acoustic systems Yamaha has been produced for more than fifty years, gaining the respect and trust of buyers. Reliable and durable, they provide a beautiful sound reproducing, making it the most clean and clear.
Yamaha is now one of the world ' s most famous and popular brands in audio technology. Build the Yamaha acoustic is a decision that will reward both the owners of home cinemas and the holders of personal computers who wish to achieve a high quality of sound effects in the reproduction of music, videos, computer games.
Yamaha Soavo (NS-900)
Soavo Top series actually sets a new sound standard. This acoustic for audio profiles provides a high power and a wide dynamic range, creates a realistic sound scene and deep, detailed strike. The most advanced technologies Yamaha are used in Soavo columns:
Advanced NF dynamics A-PMDTM with paper and high-power magnets.
DC-Diaphragm(TM) 3 cm and aluminium support plate.
Crossboards with mounting of selection parts, including Solen audio-fills.
A reinforced hull with non-parallel walls.
NS-F901 is a three-semi-polluted acoustic with two low-frequency dynamics. This ensures that there is a full, simple sound, as well as an excellent reading.
The NS-B901 and NS-B951 field models are sufficiently compact and ideally suitable for the wall installation. Based on the concept of natural musical reproduction, acoustic systems provide full spatial coverage.
The NS-C901 Central Channel has a double average frequency dynamic. It uses advanced innovative technologies to achieve very clear sound reproducing, especially in vocal and speech.
The NS-SW901 Class Top Hi-Fi provides strong, quality bass support in the stereo and in the home cinema.
See also: